AIL's Managing Director Steve Friedlander and PR Manager Mario Soljan
American Income Life of New Zealand
was a principal sponsor of this year's NZ Council of Trade Unions Women's Conference.
Over 150 delegates from around the country attended the 2-day event at Wellington's Michael Fowler Centre. Speakers included
the new EEO Commissioner Saunoamaali'i Dr Karanina Sumeo, Mich-Elle Myers, National Officer of the Maritime Union of Australia, and Tania Te Whenua - the acting legal counsel on the Waitangi Tribunal Mana Wāhine Kaupapa Inquiry.
The Conference also included workshops on critical issues facing women in the workplace, and workshops for building skills, as well as panel sessions of union women on "Organising for Change."
NEW ZEALAND'S LARGEST TEACHERS STRIKE: THE AFTERMATH


Following the largest strike action in New Zealand's history, primary and secondary teachers, jointly represented by NZEI Te Riu Roa and PPTA, voted to ratify a proposed settlement in late June that will give them pay parity.
On
May 29th
, 50,000 teachers across the country took to the streets after breakdowns in pay talks between the New Zealand Educational Institute, the Post-Primary Teachers Association; and the government Ministry of Education.
While the agreement is a big win for teachers, who have campaigned for 18 months and held three strike days, a separate settlement offer for
primary principals
was rejected.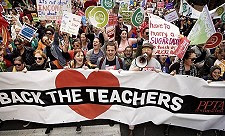 (Pic: PPTA)
In a nationwide action July 2nd, hundreds of primary and intermediate principals delivered letters to Ministry of Education offices across the country. In addition, primary and intermediate principals have subsequently voted to stop communication with the Ministry of Education and cease participation in any Ministry-led workgroups, taskforces or meetings through August 16th.
Kindergarten teacher members have also been in negotiations with the Ministry of Education and are expected to vote on a proposed settlement to their collective agreement.
The fight, however, is not over.
On
July 16th
, Novopay announced that teachers would have to wait until September 11th to see the pay increases that they won in their June collective agreement, which was to have come into force July 1st. N
ZEI Te Riu Roa and PPTA are pursuing legal action over the lengthy delay in implementing pay increases.
PSA SALUTES PORIRUA
The Public Service Association (PSA), New Zealand's largest union, commended the Porirua City Council for its decision to pay directly-employed staff the Living Wage of $21.15.
The decision follows three years of campaigning by Living Wage Porirua, and makes Porirua the sixth City Council to implement a Living Wage, along with Auckland, Wellington, Christchurch, Dunedin, and Tauranga as Living Wage councils.
PSA represents more than 70,000 workers in central government, state-owned enterprises, local councils, health boards and community groups.
"The PSA firmly believes the Living Wage is crucial for reducing inequality and with each council that commits to the Living Wage, the movement grows stronger,"
said Glenn Barclay, PSA National Secretary.
Barclay noted that while they would ultimately like to see the Living Wage extended to cover all contractors and other companies, "we recognise this as an important first step."
FIRST UNION LEADS THE PACK FOR BIGGEST AVERAGE PAY CLAIMS
According to a recent review of wage bargaining, First Union leads the pack in winning higher than average wage settlements.
In its 10th annual review, Adelhelm & Associates, a specialist industrial relations firm, First Union consistently achieved higher average pay agreements than its main rivals, E tū and the Amalgamated Workers Union of New Zealand (AWUNZ). The three overlap in the industries they cover, with First Union representing workers in the retail, finance, commerce, transport and manufacturing sectors.
"They have changed their negotiating behaviour in the last 12 months because they consider themselves an activist union and they're pushing the boundaries," said Adelhelm principal consultant Anna Holmes.
The survey of some 210 collective agreements covers a who's who of New Zealand's largest employers, including dairy processor Fonterra, electricity network owner Vector, construction firm Downer, as well as banks and supermarket owners, among a total of 65 organisations.
The report covers wage settlements spanning three years from 2018 through to next year. It shows First Union averaged increases of 3.15 percent over that period, against averages of 2.44 percent for E tū and 2.1 percent for AWUNZ.
BIG BEN GETS BOOST
The workers who make Big Ben pies,
a favorite of Kiwis, have won big pay rises and conversation rights for labour-hire workers.
The pies are made by
George Weston Foods, which also makes Tip Top, Bürgen and Ploughmans bread, and Golden crumpets, and is one of the two main players in New Zealand's bread market.
The workers,
who have been bargaining with the company since last September,
were set to take their third strike action in four months when an agreement was reached between First Union, who represents the majority of staff in the department, and Weston Foods.
Most members will receive pay increases that total either 9.2 percent or 10.5 percent over the 18-month term of the new agreement. The first raise will be back-paid to November 1st of last year and is up to $1.61 more an hour. The second will kick in on November 1st of this year.
UNIONS TARGET FAIR PAY AGREEMENTS
Unions are targeting workers in low-paid industries, including supermarkets, security, and cleaning, for the first Fair Pay Agreements (FPAs) - collective agreements that would guarantee pay rates and conditions for workers across an entire industry.
The New Zealand Council of Trade Unions (CTU) said these workers had all seen their income go backwards in real terms over the last four decades and are paid significantly less than their Australian counterparts, despite the fact that New Zealand is a much richer nation today.
The coalition Government is currently considering how and whether to set up a framework for FPAs. Labour campaigned on the policy, but has faced stiff resistance from NZ First,
the third-largest party in the New Zealand Parliament
INTERNATIONAL LABOUR NEWS
SAFETY PROGRAM ESTABLISHED SIX YEARS AGO IN BANGLADESH HAS SAVED LIVES AND STOPPED RETALIATION ACROSS HUNDREDS OF FACTORIES

As reported by International Labor Rights Forum, Clean Clothes Campaign, Worker Rights Consortium, and Maquila Solidarity Network, an independent mechanism is making factories and workers safer.
The success of the complaint mechanism run by the Accord on Fire and Building Safety in Bangladesh - trusted by workers for its independence and its effectiveness - is one more reason why the program should remain in Bangladesh and continue to operate independently until the government and local institutions are ready to take on the task.
On May 15, 2013, three weeks after the collapse of the Rana Plaza building in Bangladesh, Bangladeshi unions, global union federations, and apparel companies signed an enforceable agreement that holds the signatory brands accountable for safety in the factories where their garments are made.
I
n addition to its robust and independent inspections program, the Accord provides a credible and effective mechanism for workers to raise complaints confidentially with protection against retaliation, which include
day-to-day monitoring and reporting on workplaces conditions.
"The Accord's complaint mechanism radically reduces the possibility of another Rana Plaza," said Laura Gutierrez of the Worker Rights Consortium.
"The morning of the Rana Plaza collapse, workers who saw cracks in the walls tried to refuse to enter the eight-story building, but were forced to go to their sewing machines under threat of losing their month's salary. It is clear that the tragedy of Rana Plaza could have been prevented if the workers had had a viable channel to make a complaint or refuse dangerous work."
ATU INTERNATIONAL PRESIDENT LARRY HANLEY PASSES AWAY
Larry J. Hanley, International President of ATU. Flickr.com photo used under Creative Commons from Metropolitan Transportation Authority of the State of New York.
Larry J. Hanley, a transit workers leader who championed union democracy and denounced organized crime's infiltration of the labor movement, died on May 7th in Columbia, Maryland. He was 62
. President Hanley, a former bus driver in Brooklyn and Staten Island and labor militant, won the presidency of the 200,000-member Amalgamated Transit Union in 2010.

US LABOR NEWS
NEW JERSEY PIONEERS PANIC
New Jersey is the first in the nation to have a statewide law requiring hotels to provide their employees with such
with "panic buttons" for their protection against inappropriate conduct by guests.
Passage of the bill, S-2986/A-4439, was spearheaded by the New Jersey State AFL-CIO and Unite Here Local 54, a union representing nearly one-third of casino and hospitality workers in Atlantic City.
"We must protect the safety of workers in the hospitality industry," said Governor Murphy. "I am proud to sign panic button legislation that... so many have fought for to give hotel workers greater security and the ability to immediately call for help should they need it on the job."
"Panic buttons," portable safety devices, will allow hotel workers to alert security personnel if they feel they are in danger or in a compromising position while performing housekeeping duties. Hotels that do not comply can be fined up to $5,000 for the first violation and $10,000 for each additional violation, according to the legislation.
UNITED MINE WORKERS PROTECTING WORKERS OF WEST VIRGINIA
Cecil E. Roberts, International President, UMWA. Flickr.com photo used under Creative Commons from AFGE.
The Republican-controlled West Virginia Senate has passed legislation
that includes language that would prohibit strikes by teachers and school support personnel, including making participation in a picket line a firing offense.
In reaction, United Mine Workers of America (UMWA) International President Cecil E. Robert issued a statement, saying:
"
Teachers and school support personnel already do not have the right to strike in West Virginia, but they ignored that and demonstrated the power of solidarity in each of the last two years. Their fight for better education for our kids remains an inspiration to education professionals across the nation, and the UMWA was proud to stand with them.
Let me make this very clear: If our state's education workers believe they need to take to the streets once again, we will be there with them. And if someone comes to arrest them, they will have to go through us first."
Submitted by
Mike Treen
Written 2/8/2019